In today's marketplace, businesses cannot afford to waste a single moment or dollar. This competition-rich market means companies turn to technological solutions to assist them in making business-essential operations more efficient.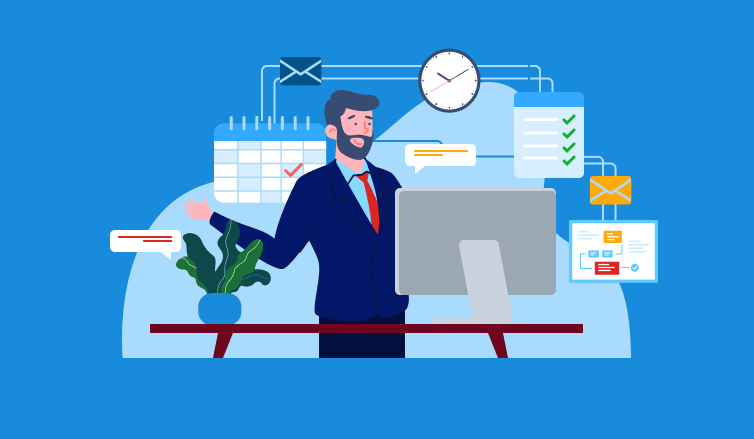 Technological initiatives such as enterprise software provide businesses with improved processes to increase productivity. Enterprise software offers businesses huge opportunities to increase productivity through faster execution, outstanding business visibility, and improved collaboration and teamwork by providing solutions that address key problems in crucial areas of your business.
Enterprise software empowers businesses with the tools to overcome day-to-day challenges and common hurdles commonly associated with supply chain, asset management, service-focused operations, customer relationship management, and supplier statement reconciliation.
Enterprise software enables businesses to remain adaptable and responsive to today's challenges, bringing about real operational flexibility and strategic growth.
Several types of enterprise software can be segmented by business function. This article will examine key technological solutions to increase productivity that empower your business to stay one step ahead of its competitors.
Enterprise Resource Planning
When your business needs to capitalize on change and drive its agility and productivity to respond to market forces, look towards an enterprise resource planning (ERP) solution.
ERP solutions are capable of delivering productivity improvements. Once implemented in your business processes, enterprise resource planning maximizes enterprise agility. This will result in operational processes improving efficiencies, decreasing costs, and streamlining processes.
No matter the industry, from aviation and defense to automotive and manufacturing, ERP software packages lend increased functionality and capabilities to structured business systems. With their capacity to be configured for various settings, business functions can eliminate repetitive processes, greatly reducing administrative and operational costs.
ERP offers businesses an agile solution to operate seamlessly across multiple departments and complex operational environments. With native functionality designed for easier organization, ERP allows for more integrated and automated operational functionality. This further empowers effective management, delivering progressive change and scalability.
Enterprise Project Management
When your business needs to control all aspects of a project, enterprise project management software offers essential tools to plan, estimate, and execute the project efficiently and with optimal time management.
No matter the business's size, enterprise project management software is a versatile way to streamline project workflow, ensuring the project remains within its scope and each task is completed on time.
Project management tools are critical for projects to stay on schedule, track projects, and collaborate on tasks. Enterprise project management software integrates the process for those managing complex projects, affording project control and real-time visibility.
Project industries such as mining, construction, and engineering will benefit from such a technological solution as project management software consolidates all work activity into a dynamic and responsive platform. Project management solutions address risks and hurdles by housing all tasks and tools in one central forum, minimizing delays and additional costs while increasing productivity and efficiency.
Customer Relationship Management
Managing relationships with customers or clients means developing stronger relationships, which, in turn, will result in better customer retention, increased sales, and enhanced customer satisfaction.
Customer relationship management (CRM) is more than just an application tool. It's a technical solution to deliver more opportunities to conduct business with existing customers and improve customer relations.
Implementing CRM in business processes creates a strategic and effective platform for your business to build and maintain customer relationships.
The strongest aspect of CRM for increasing business productivity is its ability to provide real-time insight into customer behavior. Identifying a customer's needs enables business operations to be modified as needed, ensuring customers are served strategically and cost-effectively. This improves the overall cost of acquiring new customers or retaining your current customer base.
CRM can also manage customer lifecycles, identifying profitable and unhealthy segments in your customer base. This can lead to more effective measures when marketing products or services to target specific customer needs.
A more personal approach assisted by CRM increases relationship management's efficiency, enhancing customer satisfaction and expanding your market share and customer base.
Enterprise Asset Management
Enterprise asset management (EAM) is a technical and technological solution to managing and organizing all your assets. The role of EAM is to service a business's physical assets and operational processes. From departments and facilities to locations, EAM effectively manages assets to maximize investments and extend lifecycles.
AEM solutions reduce asset failure, improve operational performance, provide real-time data, and strategically analyze managed assets to drive scalability and future growth.
AEM highlights key performance indicators on managed assets, allowing your businesses to create agile, sound decision-making. Complete visibility and control over all business assets contribute to lower asset-related operating costs, capital costs, and total cost of ownership.
Gaining insight into asset lifecycles empowers your business to avoid costly breakdowns and duplicate tasks. The ability to monitor assets in real-time streamlines management processes, making purchases more profitable and processes more efficient.
Bringing it all together
Once your business is ready to adopt these technological solutions and capitalize on increased productivity and profitability, look for enterprise software solutions that fit into several core processes of your business.
Employing services or application tools that indirectly serve your business requirements can drive down operational efficiencies and productivity. Rather, focus on the core aspects of your business that can benefit from such technological solutions.
Whether manufacturing, supply chain, project management, or service and asset control, find enterprise software solutions that complement your current processes and business structure. Equally important is finding software solutions that can easily be integrated into your legacy systems.
In today's competitive market, increasing business productivity may be the edge you need over your competitors. Technological solutions await to assist your business in making agile, data-driven decisions. The most successful companies in today's marketplace are those issues, address opportunities, and take appropriate action, all in real-time.