Laminate flooring is a multi-layer synthetic flooring product fused together with a lamination process. It involves simulating the wood or stone with a photographic applique layer under a clear protective layer composed of melamine resin and fiberboard.
This type of flooring is extremely durable, highly stain-resistant, quick and easy to install and very affordable. It performs great in heavily crowded areas like doorways and hallways. The thickness of the flooring varies as per the range of applications, right from small residential kitchens to big commercial projects.
Let us have a look at the factors involved in the installation of laminate flooring and tips for getting the job done right-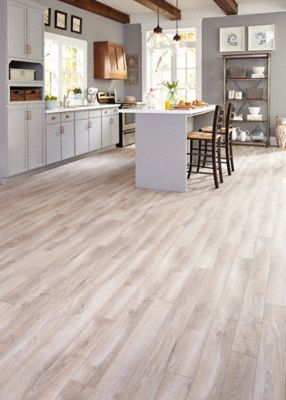 Quality material
Using low-quality laminate flooring has higher chances of getting worn and torn easily over time. With constant usage, the flooring warps and develops stains. But, using a quality product saves you from such hassles. As mentioned previously, a good quality laminate flooring would come with stain resistant coating allowing you to be stress-free while you work or walk. To choose the right type of laminate flooring, you can consult your carpenter or take references on the best brands from your family, friends or relatives. In addition, check customer's reviews and ratings for the products you are considering.
Follow the right steps
While some of you plan to install the laminate flooring on own, there is a series of steps to reach your destination of quality installation:
Inspect the subfloor and smooth it out as laminate floor systems won't work well on uneven surfaces.
Roll out a thin rubber underlayment to act a moisture barrier and a cushioning layer beneath the flooring.
Do the right calculation regarding the width of the flooring planks in the very first and very last rowsto create a balance.
Chop the planks with the help of shears in the desired measurement and start laying them as per the pattern starting from the first row to the last.
While ending up at the doorway and continuing further to another room, make use of transition strips between the rows.
Note – Don't forget to leave gaps between the laminate and the walls to allow it to move or expand without causing any warps.
The perfect installation
While, the DIY approaches seem to be cost and time saving, what you may forget that it requires expert skills to get the job done in the first go without causing any damage to the laminate. Moreover, the laminate has to be cut and assembled in a perfect way with due space to be left for its expansion. Such things are better left to a specializedlaminate flooring installer who is equipped with the desired expertise to be able to execute the task successfully with no scope of error.
After due installation of flooring, make sure to clean it regularly with cleaners that are not loaded with harsh chemicals. Also, try not to drag the furniture to avoid scratching or denting the installed laminate.